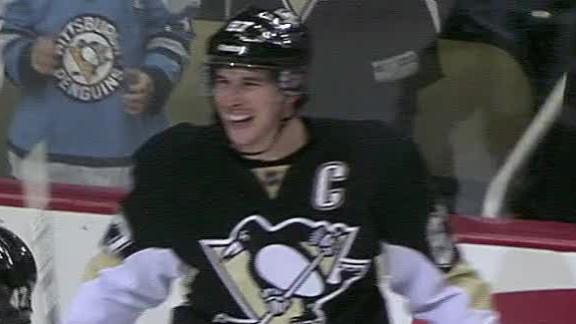 "HEEEEE shoots and scores. Make me a milkshake!" Heard too often. (Video screenshot)
The Washington Capitals were humiliated by the Pittsburgh Penguins on Thursday night for the second time in less than a week, falling 5-2 at the CONSOL Energy Center. After Mike Ribeiro scored a goal in the first period to give Washington a rare first-intermission lead, the Penguins scored four goals in the second period, three on the power play and three in a little over three minutes to take a commanding 5-1 lead. Michal Neuvirth was pulled after allowing the first two goals on 11 shots, but Braden Holtby could fare no better despite a great save on Sidney Crosby. Alex Ovechkin added a sympathy tally on a power play in the third, but once again the Capitals were victimized by a bad stretch and fell to 2-8-1, the worst in the NHL.
Alex Ovechkin was better tonight, I'll give him credit. Two points, six shots, three hits against a good Penguins team is something to build on, but as always with Ovechkin, the question at this point is whether or not he can build on it. Then, once he builds on it, he needs to come up with a way to be better defensively, not give up on plays easily, and be a better captain. Then, he might be worth what the Capitals are paying him for the next near-decade. It's just daunting to talk about now.
no comments