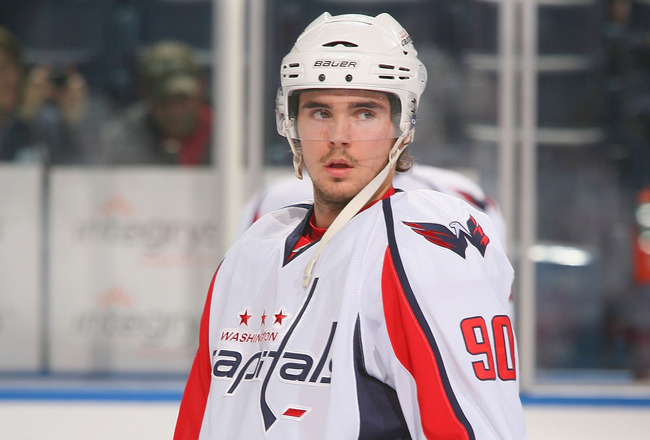 When developing players, organizations often come to crossroads. Is this guy who we really thought he was? Do we want to build around him? Is he expendable, or an untouchable?
Among many fans and media, such has become of Marcus Johansson.
The 21-year-old Swedish center, who recently finished his second season in the NHL, has not been terrible in his two seasons in a Washington sweater. After recording 13 goals and 14 assists in his rookie season, he took a big step forward in terms of point production this year, scoring 14 goals and adding 32 assists for 42 points.
Those are not stellar numbers by any stretch of the imagination but they are not terrible. And with any young player, patience must be a virtue – expecting a late first round pick to contribute at a top level right away is unrealistic. But would the Capitals be better off trading Johansson?
First, it is important to take a look at Johansson's more advanced metrics, beginning with puck possession. In both of his two years as a Capital, Johansson has been a poor puck possessor, ranking second to last among forwards in corsi rating in both 2010-11 and 2011-12. His rookie year, he did it against tough minutes (the toughest on the team among forwards, in fact), but last year, his minutes were right in the middle and his corsi was still bad. Moreover, Johansson's PDO – which measures "puck luck," was above 1000 each of his first two seasons, indicating a bit of luck. Eventually, that would regress. For a player many are hoping breaks out this upcoming season, the signs are not looking very good.
It is not fair, however, to judge Johansson just on his offensive numbers. Looking more to the defensive aspect of his game, that too has not been particularly good. Johansson only averaged 32 seconds of shorthanded ice time this year, a significant tick downwards from the almost 1:10 he saw in that situation last season. His faceoff skills have also remained anemic, posting a 40% winning percentage on the dot in 2010-11 and only 43.2 in 2011-12. Both of those numbers were last on the team among regular centers.
Is Marcus an untouchable? Read on here.
no comments