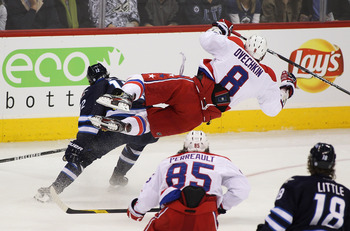 Alex Ovechkin had the best game of his season Thursday in a Caps win. (WFP)
The Washington Capitals got back in the win column on Thursday night, taking the first half of a back-to-back in Winnipeg by a final score of 4-0 at the MTS Centre. Washington got off to a great start, totally dominating the opening 20 minutes of play and getting goals from Troy Brouwer and Marcus Johansson to take a 2-0 lead in to the first intermission. The Caps would grind the rest of the game out, playing stout defense until the final six minutes of the game in which they scored twice to double their advantage and silence the usually rowdy MTS Centre crowd.
Alex Ovechkin paced the way with a goal and two assists while Nicklas Backstrom also collected a multiple-point night with a goal and an apple. Braden Holtby made 19 saves for his fourth shutout of the season for DC, who raised their record to 13-16-1. According to SportsClubStats, the Capitals, who are now seven back of first place in the Division and five back of the final playoff spot in the Conference, have a 15.7% chance to make the playoffs and a 6% chance to win the Southeast. That's a jump of almost 10% and 4%, respectively, than the beginning of the day.
no comments